Donate and help us deliver RADICAL TRANSPARENCY

Since we began in 2016, we at DiEM25 have fought to make the case for transparency as the foundation of democracy. Our founding manifesto declares transparency to be the prerequisite to transform Europe and deliver our common project to the people.
Thus our demands as per DiEM25's Manifesto are:
Full transparency in decision-making.
EU Council, Ecofin, FTT and Eurogroup Meetings to be live-streamed
Minutes of European Central Bank governing council meetings to be published a few weeks after the meetings have taken place
All documents pertinent to crucial negotiations (e.g. trade-TTIP, 'bailout' loans, Britain's status) affecting every facet of European citizens' future to be uploaded on the web
A compulsory register for lobbyists that includes their clients' names, their remuneration, and a record of meetings with officials (both elected and unelected)
That's why back in March 2016, just a month after our launch, we called on DiEMers from across Europe to join us at our first official event and help us launch our Transparency in Europe Now! campaign to demand all EU decision-making to take place under citizens' scrutiny.
And we campaigned. Hard. With over one-hundred thousand signatures behind us, we put our case to the European Establishment, but unsurprisingly, our voice was ignored.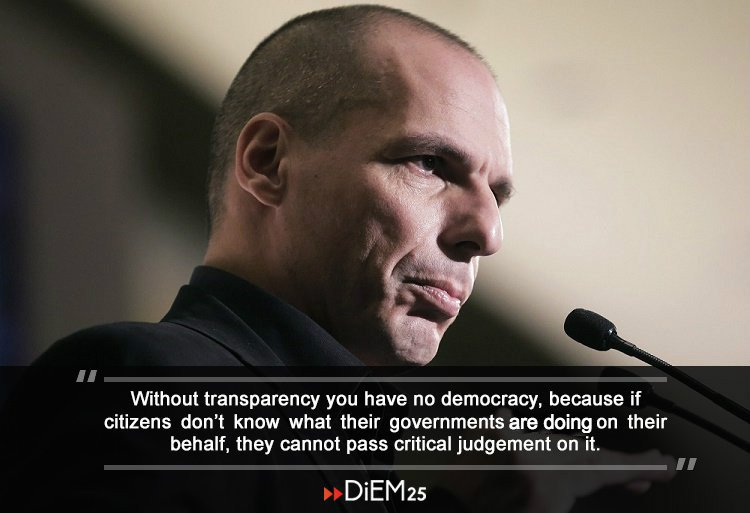 Then, in 2017, together with Member of the European Parliament Fabio De Masi, we filed a Freedom of Information (FOI) request before the ECB to make public the legal opinion it used to legitimise the imposition of capital controls on Greece in the summer of 2015. In addition, we launched our Greeks Files campaign to bring awareness to this case.
Again, our request for transparency was ignored by the Establishment. So, in 2018 we took the ECB to court.
Donate and help us deliver RADICAL TRANSPARENCY
A few weeks ago, MERA25, our political party in Greece, took our demand for transparency to the Hellenic Parliament: We offered Greece's house of representatives all of the Eurogroup recordings made by DiEM25 co-founder and head of MeRA25 Yanis Varoufakis during his tenure as the country's Finance Minister. This time, our request was not just ignored by the powers that be but was accompanied with renewed threats of imprisonment for "treason" against Yanis.
When it comes to democracy and transparency, we in DiEM25 don't take "no" for an answer. That's why on March 14 we will release the FULL Eurogroup secret meeting recordings here.
Donate and help us make #EuroLeaks happen!
Our collaboration with WikiLeaks editor and DiEM25 Advisory Panel member Julian Assange is also essential in our bid to support and defend the efforts of true champions of transparency.
That's why last weekend in London we participated in the largest-to-date #FreeAssange demonstration to support Julian and denounced the hideous and inhumane treatment he is suffering for reporting the truth to the world. And reporting the truth might lead to Julian's extradition to a prison in Trump's regime – for life.
Donate and help us deliver RADICAL TRANSPARENCY
The EU lacks transparency and democratic process. Officials change without citizens ever knowing that they were appointed in the first place. Under-the-table deals that go public only if leaked is the textbook-way of operating. Without transparency there is no democracy. If you do not know what your elected officials are doing on your behalf, you cannot pass judgement on them.
The stakes are high.
We're going all-in to raise the stakes in our bid to confront the European status-quo.
For all of us.
And we're counting on YOU.
Please donate now to make it possible
Do you believe that citizens deserve to know about these kinds of high-stakes negotiations? Sign our petition to #LetLightIn in our institutions. And if you can, support our work by donating here.